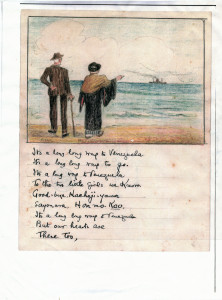 A man who chooses to remain in Japan with his Japanese wife even though it means living in a prison camp, draws pictures accompanied by poems for his granddaughter who has move to Argentina to live out the war.
I had a great time speaking to students and professors at the Reischauer Institute of Japanese Studies at Harvard University. One Harvard professor said "We look forward to assigning your book for our courses." I'm crossing my fingers. The full text of the talk is here.
I was interviewed on Eric Liu's program "Seattle Voices." Check it out here.
 YOKOHAMA YANKEE gets a starred review on Library Journal  June 17, 2013 —-This marvelous and handsomely produced memoir is something of a detective story investigating the mysteries of both family and Japan….VERDICT A lovely, unsettling family story and a vivid traversal of modern Japanese history that will impress the jaded Japan scholar and
inspire the curious general reader or memoir fan. Recommended.—Charles
Hayford, Evanston, IL.
NEW IN JAPANESE! Youtube slideshow/video on Yokohama Yankee
PRAISE FOR YOKOHAMA YANKEE
—Yokohama Yankee is a marvelous and eloquent work of family history (that) sheds light on the political, economic, cultural, and racial interactions and tensions between Japan and the United States for more than a century and a half, right up to the present day. This is a humane and insightful book that will be read many years from now—James Fallows, the Atlantic, author of China Airborne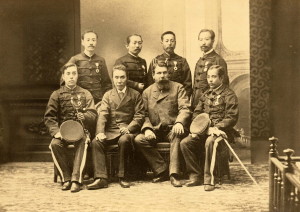 —-This is a fascinating book, skillfully told, about a family's search for identity over three turbulent centuries. Leslie Helm mines the many treasures of his family's past, and the multicultural futures of his adopted, Japanese children, to investigate the mysteries of identity that are locked away inside all of us.—Boston Globe columnist Alex Beam.
—-Like a sword cleaving a bittersweet fruit, Leslie Helm's saga of his mixed-blood family in Japan cuts to the inescapable isolation of being white in a country where blood still means so much. Yokohama Yankee is a painfully intimate story that spans more than a century and brings the wrenching history of modern Japan into a focus that is both razor sharp and deeply human. Blaine Harden, author of Escape from Camp 14 and former Tokyo bureau chief of The Washington Post.  More praise for Yokohama Yankee.